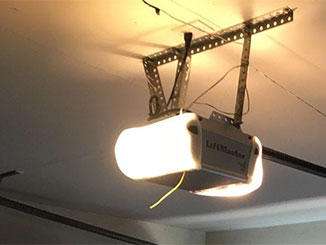 The simplicity of pressing a simple button to open and close your garage door is what makes garage door openers so fantastic. However, when your opener malfunctions and your door won't lower or raise, life can get a lot more complicated. Luckily, this is where we step in to save you from inconvenience.
Types of Garage Door Openers
There are three types of openers currently on the market, differing mainly by their drive - there are chain-driven, belt-driven, and screw-driven openers. Even though their inner mechanisms work in different ways, their correlating working parts are pretty much the same. There is a transmitter or a remote, firing a signal to start your motor, a warning device alerting you if anything is standing in the way of your garage door, and a control device, mounted inside, allowing you to operate the door without stepping outside.
We've got you Covered
When things with your opener go south, you can count on our professional team at Garage Door Repair Orange Park, to come to the correct solution. In most cases, the issue will lie in something as simple as the signaling device, such as your transmitter. However, if the initial diagnosis our technicians conduct points toward something else, the repair can prove to be a bit more complex.
Common Causes of Garage Door Opener Malfunctions
Your culprit could be a stripped gear or trolley, or, as we establish in many cases, a spring problem and the corresponding door imbalance it creates. In the best-case scenario, you will only need a simple adjustment, but in other instances, for example, if the motor itself has been damaged, the repair will take a lot longer.
We are proud to be our customers' first point of call for all opener-related issues and the best provider of repair, installations, and adjustments in the whole of Florida. With us, you will have peace of mind knowing your system is in safe hands, as we will work tirelessly, with full competence to reach a solution and meet your expectations.
In addition, we offer:

Part Replacement & Repair

Genie Garage Door Openers

Torsion Spring Adjustment

Install New Panels